LEOPARD LAKE ANNOUNCES AGREEMENT WITH INSTITUT NATIONAL DE RECHERCHE SCIENTIFIQUE & COMMENCEMENT OF EXPLORATION ACTIVITIES ON ST-ROBERT PROPERTY
Vancouver, British Columbia, May 11th, 2022: Leopard Lake Gold Corp. (the "Company" or "Leopard Lake") (CSE: LP) is pleased to announce that Leopard Lake and the Institut National de Recherche Scientifique (the "INRS") have set up a research collaboration project focused on the exploration of the Company's St-Robert property in the Beauce region of Quebec, approximately 140km southwest of Quebec City (the "St-Robert Property"). The goal of the project is to identify intrusive rocks and deep mineralization most likely present under the sedimentary rocks, which could be the source for the assemblage of metals, observed in the mineralized veins on surface.
St-Robert Property
The St-Robert Property contains numerous sources of mineralization in pyrite-scheelite-molybdenite-stibine-chalcopyrite (tr.) (north zone), pyrite-galena-scheelite (central zone) and sphalerite-silver-rich galena-pyrite-cosalite (south zone)(Wares, 1985; Cattalani, 1987; Athurion, 2013).
According to Wares (1985), the mineralization of the St-Robert Property would be associated with a magmato-hydrothermal type system. The cluster of polymetallic showings would be centered above a very strong semi-circular, low frequency aeromagnetic anomaly suggesting the presence of an intrusive mass at depth. The latter would be responsible for the injection of numerous granodioritic porphyritic dykes and also mafic dykes. In addition, Wares (1985) suggests that at depth, the mineralized system could gradually transform into copper-bearing porphyries and possibly into skarns. Geological contexts, sharing many similarities, are observed in the former Murdochville mining camp (Gaspé area) and also in southern New Brunswick (Mount Pleasant W-Mo-Bi porphyry deposit) (Kooiman et al., 1986).
This geological setting shares several similarities with vein mineralization settings commonly observed distal to porphyry mineralizations. The following figure shows the metalliferous zoning and the type of mineralization frequently observed in a context of porphyry mineralization (Sinclair, 2007) with an indication of the exploration target(s) for St-Robert research program.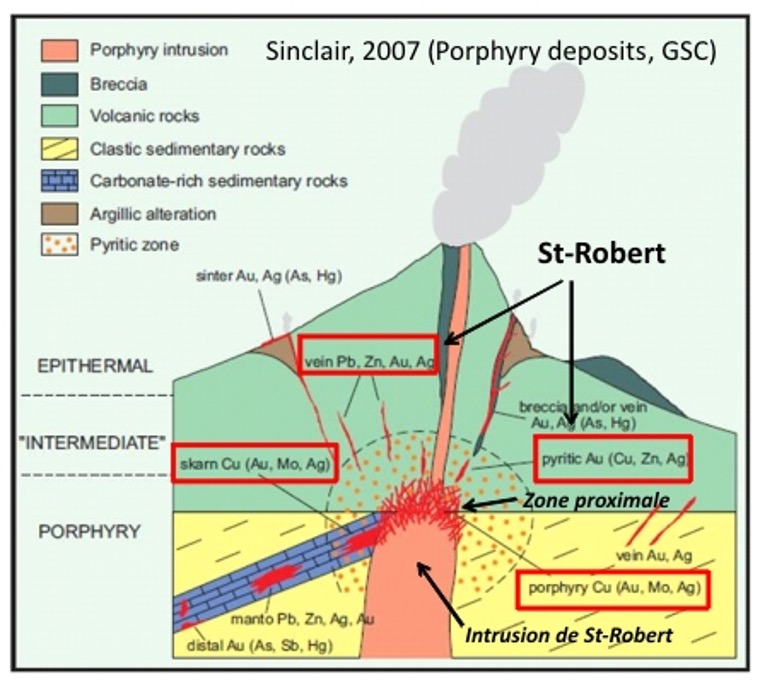 Figure 1. Simplified geological model of a classical porphyry deposit associated with an intrusive mass. Note the presence of proximal mineralizations near the pluton and distal vein mineralizations in the crustal rocks above the intrusive mass. Source: Sinclair (2007).
St-Robert Property Exploration
Professor Marc Richer-Laflèche, PhD., who is also Scientific Head of the Applied Geoscience Laboratory at the INRS Eau Terre Environment Research Centre, will lead the research effort at the St-Robert Property, consisting of:
1) High-resolution drone magnetic survey to have data with sufficient spatial resolution to detect mineralized zones of metric thickness. The flight of the drone is at low altitude in order to maximize the signal coming from shallow sources.
2) Soil-gas survey to locate large mineralized zones of polymetallic sulphides (porphyry mineralizations). The following gases will be analyzed at very low concentrations: SO2, H2S, CS2, CO2, CH4, O2, H2 and AsH3. The soil-gas method will provide additional information in order to validate the quality of IP anomalies and identify if the chargeability anomalies would originate more from graphite or sulphide mineralization.
3) Ultratrace sub-surface atmospheric mercury gas survey to search for narrow (metric) gold zones on the St. Robert Property. This method is carried simultaneously with the soil gas survey.
4) GeoElectric Tomography Survey to produce data and images which make it possible to visualize the variations in the thickness of the Quaternary deposits and to evaluate the depth of the bedrock. In addition to electrical resistivity, the method measures electrical chargeability (IP) which makes it possible to check the presence of sulphides in the rock present under the sedimentary overburden.
5) High penetration Audio Magnetic Survey (AMT) to image of the electrical resistivity and electrical conductivity of the terrain at depths of up to more than 1500m. This technique makes it possible to detect semi-massive and massive sulphide ore bodies, and also hydrothermal alteration envelopes normally associated with mineralized deposits. The AMT method is very efficient to locate major faults and shear zones, which may be related to ore formation.
Professor Richer-Laflèche's research focuses on geophysical and geochemical studies and covers various applications from mining geophysics to marine geoscience and even archaeology. The team at the Applied Geoscience Laboratory conducts geophysical studies for mineral, oil and gas exploration, geotechnics, and archaeology. The research facility has the required equipment and expertise for geoelectrical tomography, electromagnetic induction, gravity, radiometric, aquatic, magnetrometry, audiomagnetotellurics surveys, and field logistics.
Mr. Robert Coltura, CEO of Leopard Lake, commented, "We are excited to enter into this agreement with INRS, which will allow the Company to further investigate for an intrusive mass at depth at the St-Robert Property. The amount of past historical work and mining activity on the St-Robert Property demonstrates the presence of polymetallic mineralization at surface, and our objective now is to apply a systematic exploration approach to identify optimal drill targets at depth."
Qualified Person
Donald Théberge P.Eng, a qualified person as defined by National Instrument 43-101 – Standards of Disclosure for Mineral Projects, has reviewed the scientific and technical information that forms the basis for this news release and has approved the disclosure herein. Mr. Théberge is independent of the Company.
About Leopard Lake Gold Corp
Leopard Lake is engaged in the business of mineral exploration and the acquisition of mineral property assets in Canada, including the St-Robert Property, which is comprised of 4 mining claims in Beauceville and 102 mining claims in the Riseborough and Marlow Townships in St. Robert Bellarmin, Quebec, and the Stella property located in the Abitibi region of Northwestern Quebec, made up of 52 contiguous mining claims for a total of 2,987 hectares, approximately 65 kilometres east of the town of Val d-Or. Its objective is to locate and develop economic precious and base metal properties of merit and to conduct its exploration program on the Leduc Gold Project. The Leduc Gold Project consists of 9 unpatented mining claims (114 cells) which covers an area of approximately 2,290 hectares near Jellicoe, Ontario, Canada, within the Thunder Bay Mining Division.
For additional information, and to view a copy of this news release in French, please visit the Company's website at: www.leopardlake.ca
On Behalf of Leopard Lake Gold Corp.
Robert Coltura
Chief Executive Officer and President
For further information, please contact:
Robert Coltura
Chief Executive Officer and President
(604) 290-6152
Forward-Looking Statements:
This news release contains forward-looking statements and forward-looking information (collectively, "forward looking statements") within the meaning of applicable Canadian and U.S. securities legislation. All statements, other than statements of historical fact, included herein including, without limitation, statements about the Company's research collaboration project with INRS, statements regarding the planned exploration to be conducted on the St-Robert Property and the results thereof, and the anticipated business plans and timing of future activities of the Company, are forward looking statements. Although the Company believes that such statements are reasonable, it can give no assurance that such expectations will prove to be correct. Forward-looking statements are typically identified by words such as: "believes", "will", "expects", "anticipates", "intends", "estimates", "plans", "may", "should", "potential", "scheduled", or variations of such words and phrases and similar expressions, which, by their nature, refer to future events or results that may, could, would, might or will occur or be taken or achieved. In making the forward-looking statements in this news release, the Company has applied several material assumptions, including without limitation, that that there will be investor interest in future financings, market fundamentals will result in sustained precious metals demand and prices, the receipt of any necessary permits, licenses and regulatory approvals in connection with the future exploration and development of the Company's projects in a timely manner, the availability of financing on suitable terms for the exploration and development of the Company's projects and the Company's ability to comply with environmental, health and safety laws.
The Company cautions investors that any forward-looking statements by the Company are not guarantees of future results or performance, and that actual results may differ materially from those in forward-looking statements as a result of various factors, including, operating and technical difficulties in connection with mineral exploration and development activities, actual results of exploration activities, the estimation or realization of mineral reserves and mineral resources, the inability of the Company to obtain the necessary financing required to conduct its business and affairs, as currently contemplated, the timing and amount of estimated future production, the costs of production, capital expenditures, the costs and timing of the development of new deposits, requirements for additional capital, future prices of precious metals, changes in general economic conditions, changes in the financial markets and in the demand and market price for commodities, lack of investor interest in future financings, accidents, labour disputes and other risks of the mining industry, delays in obtaining governmental approvals, permits or financing or in the completion of development or construction activities, risks relating to epidemics or pandemics such as COVID–19, including the impact of COVID–19 on the Company's business, financial condition and results of operations, changes in laws, regulations and policies affecting mining operations, title disputes, the inability of the Company to obtain any necessary permits, consents, approvals or authorizations, including by the Canadian Securities Exchange, the timing and possible outcome of any pending litigation, environmental issues and liabilities, and risks related to joint venture operations, and other risks and uncertainties disclosed in the Company's latest Management's Discussion and Analysis and filed with certain securities commissions in Canada. All of the Company's Canadian public disclosure filings may be accessed via www.sedar.com and readers are urged to review these materials.
Readers are cautioned not to place undue reliance on forward-looking statements. The Company undertakes no obligation to update any of the forward-looking statements in this news release or incorporated by reference herein, except as otherwise required by law.
Back To Archive